When a Journal Entry is made to record a transaction, that Journal Entry is then entered (posted) in the accounts being impacted. For example, when rent is paid, in the journal entry Rent Expense is increased and Cash is decreased. The individual accounts each (like Rent Expense and Cash) have a Ledger where transactions are entered. Individual transactions are entered and a running balance is tracked.
What is a Ledger in Accounting?
A Ledger is a collection of accounts used to post journal transactions to individual accounts.
Here is an example of a ledger: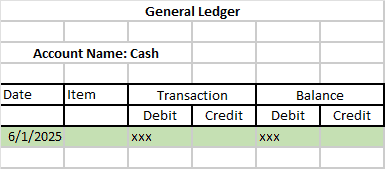 What is the Difference Between a Journal and a Ledger?
For a clearer understanding of the difference between a Journal and a Ledger, watch this video:
How to Post Journal Entries: Step-by-Step
To demonstrate how to post to accounts, we'll use the sample transactions detailed in this article:
Here is the complete set of journal entries detailed in the article above:
The Journal Entries are entered line by line into the Ledger and the balances are updated after each transaction.
In the Ledger, this transaction is posted as a debit to Cash and a credit to Joe Smith, Capital. It looks like this:
What is the Item Column Used for in the General Ledger?
The Item column is left blank when posting regular transactions. The Item column is only used for notating the following types of transactions being posted:
Beginning Balance
How is the Balance Column Used in the General Ledger?
The Balance column in the General Ledger is used to keep a running balance in each account. This allows you to always know how much Cash is in the account and what your Revenue is for the month so far.
Here is an example of the Cash account with all transactions posted:
Notice that debits increase the balance and credits decrease the balance.
Here is the completed ledger for all transactions:
What Does Post Reference (Post Ref.) in the Journal and Ledger Mean?
Posting Reference or Post Ref is a column in an accounting General Journal and General Ledger. It serves as a check and balance to ensure each transaction has been posted to the appropriate account. It is used in the process of posting transactions from the general journal to the general ledger.
In the General Journal, when an account has been posted to an individual account, the number assigned to that account is listed in the Post Ref column to indicate that entry has been posted. In the General Ledger, for the corresponding transaction, the page number of the General Journal is entered to signify the page where the transaction can be found.
What is a Trial Balance?
A Trial Balance lists each account and its balance. The purpose of a Trial Balance is to double check our work to make sure our debits equal our credits. We do a trial balance when all the transactions are posted to the ledger and the balances updated. We take the balance from each account, grouping account types together (assets with assets, liabilities with liabilities, etc.), and we enter the balances into the Trial Balance. Here's the completed Trial Balance:
If you're not used to speaking the language of accounting, understanding debits and credits can seem confusing at first. In this article, we will walk through step-by-step all the building