Adding a QuickBooks Online ProAdvisor certification to your portfolio of skills and certifications is a great way to increase your credibility with potential clients or employers. But the exam can be a headache.
I am certified in both the basic and advanced levels of QuickBooks Online. In addition, I teach a college accounting software class. Part of the class involves taking the free Intuit training and the basic certification exam.
We took an analytical approach to studying for the exam and, with my students input, we put together the following notes to increase the success rate for taking the exam.
How to Pass the QuickBooks Online ProAdvisor Certification
Certification Exam Notes
The Certification Exam is based on the QuickBooks Online training in your ProAdvisor training section.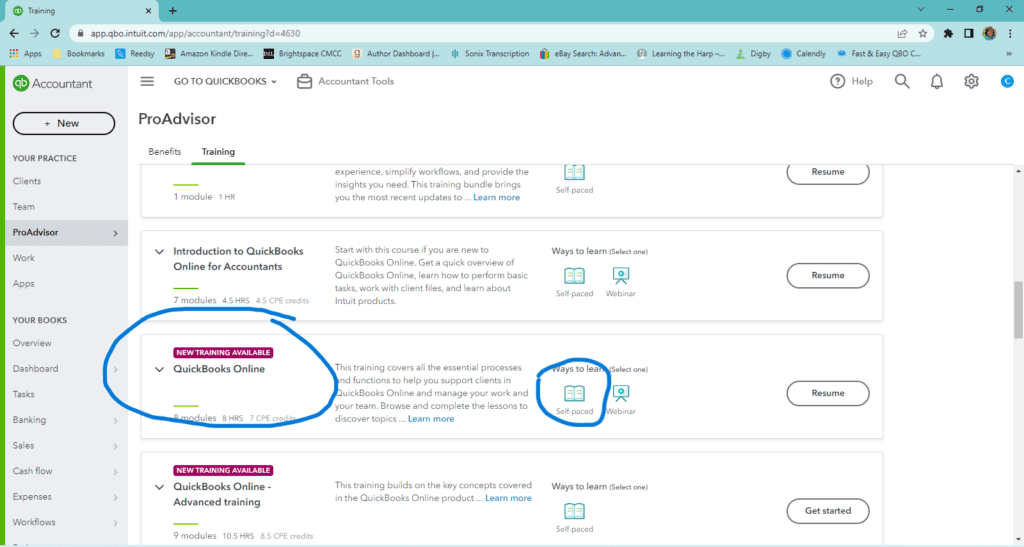 The QBO training is eight sections, made up of 48 individual lessons.
The Certification Exam is 5 parts, each part of the exam contains 8-10 individual lessons from the training. As an example, we found that the first part of the exam corresponded to this part of the training:
QuickBooks Online Training Outline
Understanding Client Needs

QuickBooks Online Subscriptions

Billing Options

The Client Overview Screen

The QuickBooks Online Ecosystem

Client Onboarding

Onboarding Workflow

Chart of Accounts

Product and Services
(The complete training outline is included later in this article.)
The training outline helped us find the areas of the training that mapped to the exam questions. While we were taking the exam, it helped us find the section in the training we needed to go to.
We took an analytical approach to the training and the exam and found this helped us understand how to do well on the exam. We worked on "how" to take the exam rather than on trying to memorize material.
The exam is open book. This means you can have the training open, QuickBooks Online open, the training outline open. BUT! You will need to be very aware of having the exam open in one browser and everything else in a different browser. (More on that later.)
The exam is a combination of:
Keystroke questions: how to get to x feature in QuickBooks Online or where to find something
Product feature questions: for example, what subscription do you need for a particular situation
Question types are:
Radio button (one correct answer)
Drop downs
Check box (multiple correct answers)
Do one section at a time. You have to finish that section once you start or your work will be lost.
The test is not timed, but QuickBooks has a timeout feature. Change the QuickBooks timeout feature by going to Gear / Company Settings / Advanced / Other preferences / sign me out. Change the setting to 3 hours. Save. Done. This will allow you to work through the exam without QuickBooks logging you out.
The answers to the questions are all in the training, but it takes very careful reading of the training materials to find those answers.
You will not receive individual section grades until you have submitted all five sections.
You'll receive a grade for each section after you have submitted all five sections. To pass each section a score of 80% is required.
Once you have submitted all sections, you will get almost instant results showing you which sections you have passed. If you don't pass a section, you can re-do it. You don't need to do the entire exam over if you don't pass a section. You will just re-do the sections you didn't pass.
QuickBooks will show you clearly which sections you need to re-take. It won't show you what questions you got right or wrong. It will tell you might want to "brush up" on certain parts of the training (it's a clue!)
You have three tries total to pass each section. If you don't pass after three tries, you have to wait 60 days before trying again. At that point, you would need to do all five sections again.
Step-by Step Directions
Change the QuickBooks timeout: Gear / Company Settings / Advanced / Other preferences / sign me out. Change the setting to 3 hours. Save. Done.
Have the QuickBooks Training Outline available to consult when looking up a question in the training.
Sign in to QuickBooks in one browser using your ProAdvisor email. Go to ProAdvisor / Training. Click on Take Exam.
In a second browser sign in to QuickBooks using your ProAdvisor email. Go to ProAdvisor / Training. Open the QuickBooks Online training.
In either browser, open up the sample company (you'll use this for keystroke questions). This does not require you to be signed into QuickBooks so it won't impact your exam.
You can find the QuickBooks Online Sample Company here: Craig's Design and Landscaping
Take Section One of the exam. At the end of the section, you will have the opportunity to review your answers. Once you are satisfied with your answers, hit Submit to finish the section.
Repeat for the other four sections.
QuickBooks Online Solutions

Understanding Client Needs
QuickBooks Online Subscriptions
Billing Options
The Client Overview Screen
The QuickBooks Online Ecosystem

Client Onboarding

Onboarding Workflow
Chart of Accounts
Product and Services
Adding Customers
Adding Vendors
Setting up Bank Feeds

Special Client Onboarding Tasks

Basic Sales Tax Setup
Setting up Payments
The Melio Bill Pay Experience
Adding Apps for Your Clients
QuickBooks Time and QuickBooks Online Payroll
Customizing Sales Forms
Managing Client Access

Managing Your Clients and Work

Managing the Client List
Managing Subscriptions
Managing Your Team
Managing Your Work
Client Requests

Supporting Your Small Business Clients

Recording Undeposited Funds
Issues with Workflows
Working with Estimates
Credit Memos and Customer Statements
Vendor Credits
Deposit Transactions
QuickBooks Payments
Journal Entries
The Pay Down Credit Card Feature
Transfers

Banking and Tools

Managing Receipts and Bills
Excluding Bank Transactions
Creating Simple Bank Rules
Reconciling the Bank
Overview of Recurring Transactions
Introducing Tags in QuickBooks Online

Reporting and Analytics

Basic Reporting Options
Report Options to Answer Common Business Questions
Customizing Reports
Management Reports

Closing the Accounting Cycle

Month-end Review
The Reclassify Transactions Tool
The Write Off Invoices Tool
Key Tasks for Year End
Closing the Books
Passing the exam is much easier using these tips. I used the same tips for passing the Advanced certification. The certification trainings and exams are set up similarly for both.